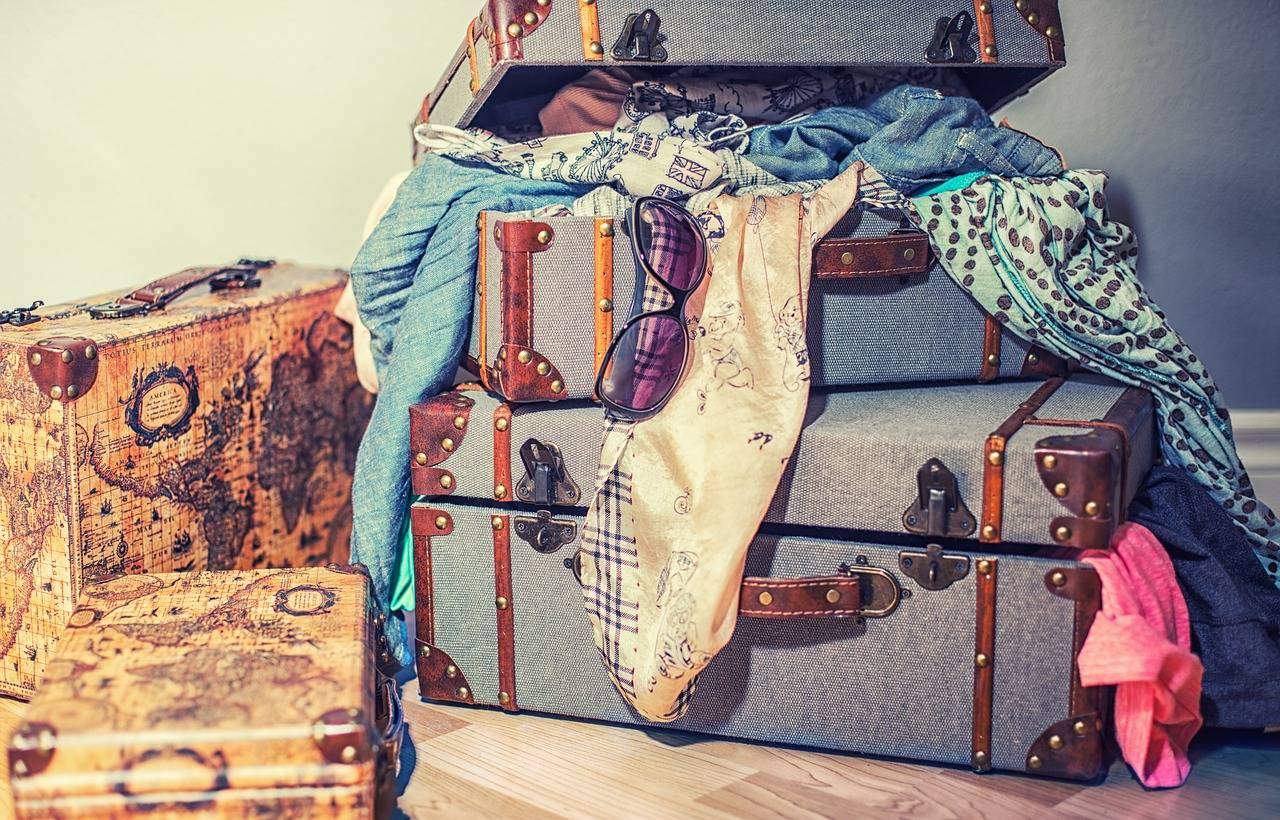 Going for a weekend? Only you know what you might need most. It's important to have all the necessary things while you travel. We all get confused when packing our traveling bag, you have many things to take with you but can't. You may know many things about a lady by her bag. Some things depending on where you're going and when but don't worry, we are here to help you. We have listed some things that a lady must carry with her in her travel kit, have a look at it.  
1. Sewing kit or safety pins
When your top is missing a button, it is a perfect excuse to buy a new one. However, if it is the mezzo of the day and you are outside, what will you do? In this situation, a mini sewing kit and safety pins will be the rescue method you need. Ladies must have safety pins in their travel kit that will be very useful.
2. Hand sanitizer
Sanitizers are such things every woman should have in her bag because it protects her. Ladies are very genuine about their health, they never take risks for it. For many reasons, you should have a sanitizer in your travel kit.
3. Tylenol or aspirin
These tablets are widely used to treat pain in the body and to reduce fever. These are anti-inflammatory drugs and used as a painkiller. A woman must have these tablets in her travel kit.
4. Mirror
A hand mirror that allows you to keep both hands free. A lady must have a mirror with her every time even though she is traveling. Take a hand mirror with you it will help you in many ways.
5. Lipstick
It is a cosmetic products that contain oils, pigments, emollients and waxes that apply color,protection and texture to the lips. Make a bold statement with your perfect lipstick, that gives an extra glamour to woman look. Some lipsticks are also lip balms, to add hydration and color.
6. Hair accessories
Hair items are a terrific way to elevate your look and protect your hair. Clips, headbands, and scrunchies are the best way to turn bad hair into a beautiful one by adding these accessories to your hair. If you are going outside then you must carry your hair accessories to protect your hair.
7. Cash
Everyone must carry some cash with them especially when they are traveling. Cards not accepted everywhere, that moment you need some cash.
8. Feminine products
To maintain hygiene during menstruation, women must carry feminine products with herself everyone mostly when they travel. While on your periods, the most important thing is to keep yourself safe, comfortable and clean. Feminine hygiene products are tampons, washes, pads, sprays, and powders. Your health is in your own hands so keep these hygiene products with you. Otherwise, only you are responsible for your health.
9. Clean up
These clean-ups remove impurities of the skin and improve the blood circulation from deep within. Clean-ups remove radiant, dirt, free of dead skin cells and flawless skin. Regular clean-ups are sufficient, there is no need of a proper facial every day. It's important to have a clean up with you while you travel to remove impurities of the skin.
10. Snack
Every woman needs healthy snacks that are low calorie, high protein, gluten-free, low in calories, vegan or more. So carry some snacks with you while you go for travel. Protein and vitamin D, yogurt in calcium can help to maintain healthy bones as well as make a nutritious and tasty snack. Women are at risk of osteoporosis later in life so this good snack intake is vital. Some people get hungry during traveling so carry some snacks in your travel kit.
11. Scarf
Scarfs are not only stylish in looks, but they also keep you warm and protect you from the wind. A simple way to protect yourself from changes of the season is to wear a scarf. A scarf is a handy and versatile item to have when traveling and a scarf is also important for women's fashion.
12. Sun protection
Sun protection creams are used to protect skin for various harmful effects from the sun and it is the strongest defense against skin cancer. They also help to prevent wrinkles, leathery skin and sunburn.
13. Headphones
Music improves your mood, relaxes our muscles, reduces heart rate, blood pressure and anxiety. Headphones are great to use when listening to music or watching TV. They used to watch television, listen to music, listen to the ratio, etc. headphones allowing us to privatize our public spaces and control over our audio-environment.
14. Body wipes
Body wipes can save the day any time you want to smell clean and fresh when you don't have time to shower and it is also safe to clean your vagina with these wipes. This body wipes help in cleaning easily and suitable.
15. Emergency contact information
You must have a contact number written of someone who knows your medical history and how to contact your friends and family in the case of an emergency. Women must have an emergency contact in her travel bag.
16. Notebook
There are some things that you have to note in the only paper. You may use it airtime to do some work.
17. Pen
There's usually a landing card to fill out so a pen is always great to have on international.
18. Phone battery extender
A battery extender is a way to increase the battery life of your smartphone. Browse social media, use navigation, games and watch videos without worrying about your battery life. Women should carry a battery extender along with her every time in case of an emergency.
Women had to carry some extra things with her as a comparison to men. For a healthy and safe journey, a woman must carry these things in her traveling bag. There are some things that a woman must have in her travel kit. Tell us in the comment box, if you have any more suggestions and keep in touch with us for more information.