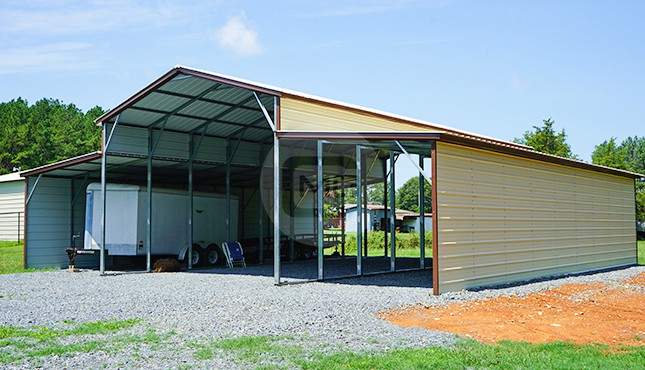 Steel structures are some of the most flexible building options available to contractors, builders, and do-it-yourselfers. These long-lasting, low-maintenance construction solutions provide several advantages. In recent years, metal buildings have become quite customizable, allowing owners to have the aesthetic they want while still providing the utility they need.
Benefits of Steel Buildings
Steel is an instrumental metal used for almost everything from garden huts to skyscrapers, which would be impossible to build with any other material. Structural steel is ubiquitous, used almost everywhere around the globe, from industrial manufacturing to house construction.
Structural steel sections are helpful in the construction of buildings, bridges, high-rise structures, stores, and warehouses. The advantages of steel are almost innumerable, but let's take a deeper look to see precisely why steel is the most desirable metal for construction projects.
· Quick Assembly
Conventional wooden structures can take a year or more to construct fully. Assuming your Prefab steel buildings  system is acquired from a reputable supplier, the construction process should prove far more efficient. Every metal building comes with anchor bolt patterns and comprehensive engineering drawings. All critical connections are bolted together with pre-punched holes, and the majority of components are precut and numbered to comply with your customizations for easy assembly.
· Great Flexibility
Combining these benefits with the option to have considerably bigger door openings (e.g., overhead, rolling, and sliding doors), the benefits start to mount up quickly. Larger door apertures are great for storing heavy or large equipment. It also makes them suitable for storing bulky aircraft or farm equipment like tractors and bailers.
· Easy To Modify
Steel houses, garages, and structures provide opportunities for improvement in ways that conventional stick-built systems do not. Engineers can reinforce existing steel columns and beams by adding steel plates to them, allowing for greater loads. Existing steel structures can be retrofitted with new stairways simply by removing a piece of the floor, bracing a single bay, and installing the necessary stair structure. Steel also provides for both vertical and horizontal structural extensions with minimal changes to the already present superstructure.
· Versatile
Steel Building Systems are highly adaptable, with the ability to construct a building using several different framing methods, such as clearspan or modular framing. Steel building systems are omnipresent, appearing in almost any contemporary construction project, from industrial facilities and warehouses to offices and retail. In many situations, you won't even notice that a structure is built of steel.
· Aesthetics
An increasing number of modern architects are lauding steel structures' inherent beauty and elegance. Structural steel tolerates dramatic bending and rolls in its construction to generate non-linear patterns that further improve a structure's visual appeal, all without compromising safety and value. This type of manufacturing allows for unique and creative designs that other materials cannot match.
· Durable
Pre-engineered steel buildings are incredibly long-lasting. They can resist severe snowfall, fierce winds, and significant earthquakes. A special coating of galvalume, an aluminum compound, prevents corrosion and extends the life of the panels. They are also non-combustible and far less likely to be destroyed by fire.
· Less Expensive
Using structural steel for your next project will decrease overall costs while simultaneously increasing its value. A steel frame is less expensive than competing construction options. Steel is highly flexible and offers significant savings if a project requires subsequent alterations or extensions.
· Energy Efficient
Rigid frame steel structures allow for considerably more insulation than wood frame steel buildings. Steel buildings also use computer-assisted design techniques, making structures snap together more precisely to increase energy efficiency. The result of these advances gives buyers significant savings on their heating and cooling expenses.
· Environmentally Friendly
If you want to protect Mother Nature by conserving resources, steel structures are an excellent choice. Steel buildings can be forged from recycled steel, significantly reducing the number of resources needed for construction. Compared to the number of trees required to build a single wooden garage, opting for a steel structure is a responsible choice for the planet.
Conclusion
Steel structures save time, money and help reduce the environmental impact of construction- three critical reasons to use them for your next project. Metal buildings are also durable, fully customizable, versatile, and require very little maintenance. With all these benefits, investing in steel is investing in the future.