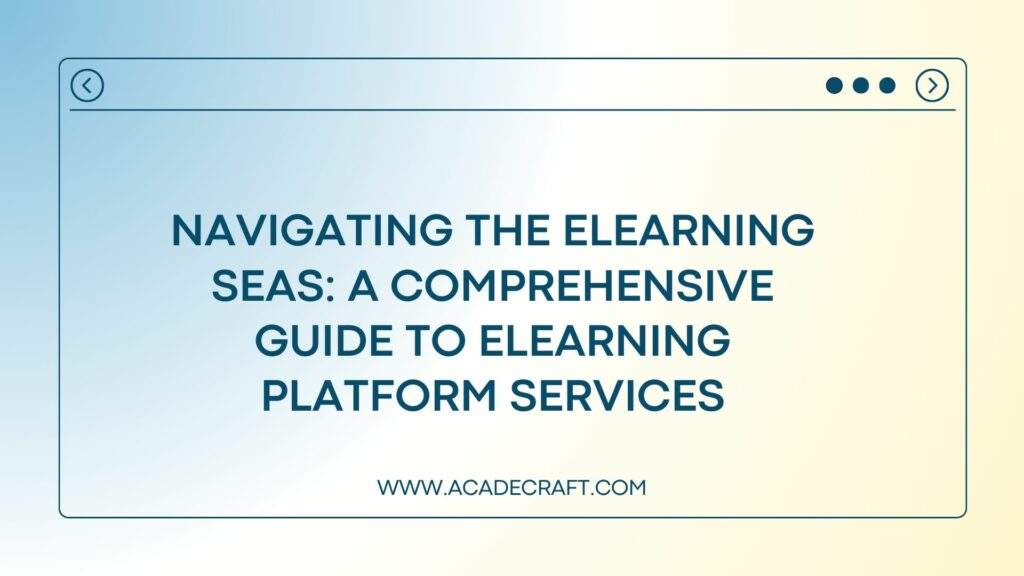 The size of the international eLearning market was $215 billion in 2022. In the next eight years (2023-2031), this industry is estimated to reach $645 billion at a CAGR of 13%.
This sector's huge popularity and rapid growth make it clear that now is the best time to invest in smart eLearning services. Namely, in eLearning platform services.
All in all, eLearning solution providers offer learners of all levels and ages with four core benefits:
· Ease of getting started;
· Flexibility;
· Round the clock availability;
· Affordability.
With all the benefits, the growth of eLearning platforms is a favorable venture.
Kinds of eLearning Platforms in eLearning Platform Development
Before we study in detail, you need to know that there are diverse types of eLearning platform services.
Learning Management Systems
An LMS (learning management system) is an all-rounded service designed to let educators easily assess, implement, and plan a learning procedure. Simply put, such systems let teachers deliver and create educational content and assess and track learners' progress.
Generally, this type of platform consists of two major elements – a user interface that students, educators and administrators and a server with the base functionality can utilize.
Student Management Systems
An SIS (student information system or student management system) is software designed to devise simple information tracking for educators, parents, and other faculty staff. Usually, such systems are built to communicate between parents and administrative staff regarding students and coordinate scheduling.
Virtual Classrooms
A virtual classroom is mainly a virtual learning environment. It is a platform where educators and students can interact with each other and gather for a class, as well as with the appropriate learning material.
Assessment Software
This eLearning platform service is intended to help students and teachers create new learning plans customized to each learner's needs, track and reflect on progress. Such answers make the learning process more effective and improve student experiences.
Massive Open Online Courses
A MOOC (massive open online course) is an eLearning platform that provides free web-based learning sequences to everyone. Such platforms give many geographically dispersed students skills and access to the needed knowledge.
eLearning Platform Development Trends
You must watch emerging and existing industry trends to build an eLearning platform service that keeps and drives users happy.
Here are some of the greatest trends in this area for 2023:
Authorities claim that over 70% of eLearning platform services in 2023 will leverage both bots and live training. Interactive chatbots can offer virtual learners round-the-clock, quick support and unlock more opportunities for customization. As a result, you have reduced support staff costs and get better learner experiences.
Customization is a recurring trend for Learning solution providers. Recognizing every student's unique needs and paces, platform developers strive for additional personalization every year to improve learning outcomes and create the best user experiences. 
Gamification has long proven successful in terms of winning users and keeping them returning, which is why it's generally popular in software development. In the eLearning services, this trend is also used to help students progress better.
Microlearning means breaking down educational materials and courses into bite-sized experiences. This trend helps deliver meaningful and more personalized learning experiences. At the same time, it has been proven that microlearning helps students quickly feel tangible results from learning.
A popular trend is social learning. In a nutshell, this concept is used for enhancing socialization among online students by letting them have indirect (i.e. correspondence via email, social networks, etc.) and direct (i.e. a video conference) social interactions with each other.
Technologies That Can Help You in eLearning Platform Development
When discovering how to build an eLearning platform service, it's vital to identify the correct technologies for building your platform. Apart from the simple tech stack, several solutions will ensure success and help streamline the development process.
Namely, there are three great technologies to consider if you want to build an eLearning platform with high quality:
Artificial Intelligence (AI)
AI (Artificial intelligence) is reshaping the field of eLearning services. AI-powered platforms can perform several tasks that usually require human intelligence. Namely, decision-making speech recognition, they can provide solutions for multi-language translations, and more.
Apart from helping with the development process, this technology can create more meaningful experiences for users in the future. Namely, combining AI during the development stage can automate various difficult tasks. For instance, this technology can help you enhance data security, fix and identify errors more easily, make better strategic decisions, etc.
Augmented Reality (AR)
AR can create simple and more exciting learning experiences in eLearning platform services. With its help, students can study almost any topic or subject "from the inside" in a half-virtual environment.
In the development procedure, this technology also has several perks. Namely, it can improve collaboration, reduce costs, help shorten development time, and do much more. Also, augmented reality enables product development teams to visualize a project for clients, partners, and other teams.
Virtual Reality (VR)
Virtual reality is a great technology of the future in eLearning services. Executed in eLearning platform services, VR can help learners learn in a more exciting and much deeper way.
This technology can let students experience any activities or events in a safe virtual environment. So, it's also known for enhancing students' motivation and engagement.
For development, this technology also offers creative opportunities. VR can help designers feel and see the product they are working on. Namely, some VR tools available today enable you to manipulate code by hand and create it in a virtual environment.
Wrapping up
eLearning platform services are riding high nowadays. Thus, creating one yourself can be an excellent way to take your company to the next level and drive sales. The only problem is that developing a great eLearning platform isn't simple.
The development procedure is full of challenges and hidden pitfalls. From testing to conducting business analysis– there is plenty of space for errors that can cost you money and time. But not anymore!
With a professional eLearning solutions provider, everything will be easy and manageable for your company.