Bungee jumping is probably one of the best and easiest adventurous sports in the entire world. If you like adventure sports then you should try this amazing jump. Many countries offer amazing settings and spectacular views for the jumpers.
You should only try this sport in established countries where safety precautions are in place. It is a sport that involves jumping from a high structure while connected to an elastic rope. You will fly in the air and can view the nearby places. Bungee jumping was invented in New Zealand by AJ Hackett.
Many countries have banned bungee jumping due to various deaths and accidents. Various countries in the world offer amazing bungee jumping with safety. Here, we've listed some countries that are famous for its bungee jumping.
1. New Zealand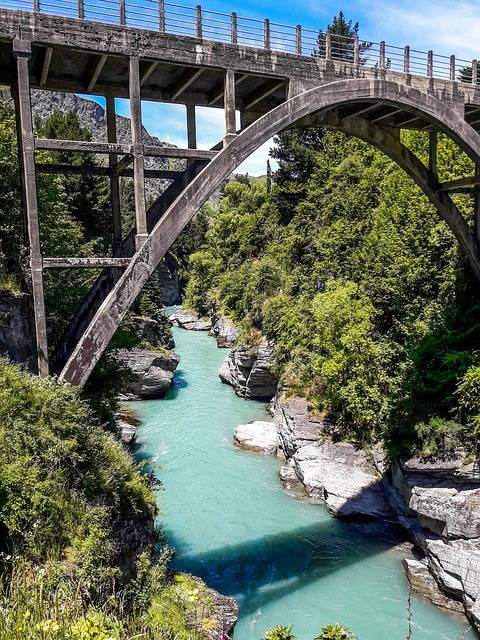 Where AJ Hackett had launched bungee jumping in 1988 and after that, it becomes an international phenomenon. New Zealand has some amazing and safe bungee jumping spots that make it famous for bungee jumping. Bungee jumping is a national sport in New Zealand.
New Zealand and bungee jumping go together like a car and petrol. Some of the best bungee jumping spots in New Zealand are Nevis bungee & swing, Kawarau bridge bungee, the ledge bungee & swing, Auckland bridge climb, and bungee, Shotover canyon swing, agro ventures bungee, tempo bungy and many more.
2. Zimbabwe
Zimbabwe is also famous for its safe bungee jumping. Keep the eyes open on the way down to feel and view the beauty of zimbabwe. Bungee jumping from the victoria falls bridge in zimbabwe is famous all over the world for its beauty.
You'll actually drive headfirst through a rainbow during the bungee jumping in zimbabwe. As you drop, you'll see the beautiful views around you. If you're bungee jumping lover then you should try it in zimbabwe.
3. China
It has many high bungee jumping spots. China is one of the most breathtaking bungee jumping countries. It provides a safe and soft end to the brief bungee jumping. If you want to experience this impressive and adventurous jump then you should try bungee jumping in China.
You can enjoy physical and mental exercise during the bungee jumping. Some of the top places in China that are famous for bungee jumping are juma river, shijingshan amusement park, yesanpo, qing long canyon, longtanhu park, yanqui lake, Olympic sports center, Guangzhou, and Jinjiang American park. These places are well- known for its bungee jumping as well as beauty.
4. South Africa
South Africa has earned a global reputation for its claim to having the highest commercial bungee jump in the world and bungee jumping attracts many tourists every year in South Africa. Bloukrans Bridge is the highest bungee jump in South Africa at 216m. Other famous spots for bungee jumping in South Africa are bungee mogale, Orlando towers, Moses Mashinda Stadium, cable car, and gouritz bridge.
Several tour operators offer to jump in south Africa. Summer months are the best time to go for bungee jumping in South Africa. You don't need to prepare for your bungee jumping as no skill is necessary for a jump.
5. Mexico
Bungee jumping sport found one business listing for bungee jumping in Mexico. The popularity of bungee jumping is definitely higher than you may be tempted to believe at first glance. Some people that do not want to be a part of the bungee jumping experience in Mexico as they are afraid the safety offered is not high. The Rio grande bridge is a famous bungee jumping spot in Mexico and a favorite stop for visitors.
6. Switzerland
It is one of the European countries that you want to visit. When it comes to bungee jumping in Switzerland, the prices are a little high but the price is worth it in most cases. Top bungee jumping sports in Switzerland are contra dam, Grindelwald Glacier, and stockhorn.
These spots have stunning surroundings that make them more popular. Jumpers in Switzerland experience falls from a high spot with a rubber cord attached to their feet and suit.
7. Nepal
Interested in bungee jumping? Then you should visit Nepal to have experience of great adventure jump. It is a perfect spot for the bungee jump as the country is blessed with naturally build bungee spots. Nepal offers visitors great adventure at falling from high altitude at the natural and real places.
Jump in Nepal is no longer a completely new arrived adventure sport. Jumping in Nepal is a quite popular adventure adorned by many native foreigners and youngsters. The fall of jumping in Nepal is the second deepest fall in the entire world. Bhote Kosi river, last resort, and hemja are famous spots in Nepal for bungee jumping.
8. Austria
Bungee jumping in Austria is a famous adventure sport but few professional companies offer to jump. The exhilarating sport of bungee jumping is becoming increasingly popular in Austria, due to the heights and surroundings around there.
Austria offers pretty interesting and adventurous bungee jumping opportunities. Kolnbrein dam, donauturm, and europabrucke bridge are making the country the great backdrop for bungee jumping.
9. Italy
Bungee jumping is an excellent example of great things to discover in Italy. It is a bunch of exciting and adventurous activities that attracts lots of tourists every year. Ponte Colossus is one of the famous spots for bungee jumping in Italy. Italy has several places for bungee jumping but those places offer to jump with full safety. If you get a chance, don't miss the special bungee jump of Italy.
10. France
Bungee jumping in France is a famous adventure sport. The thrill comes from a rebound and free-falling in France. Arby bridge, Alpes cable car bungee jumping, and Pont de personas bridge are famous spots for bungee jumping in France. Go enjoy an adventurous experience in an amazing backdrop in the heart of France with bungee jumping.
These are the countries that are famous for their adventurous bungee jumping sport. Feel free to comment below and get in touch with us to stay updated.