Every empty wall deserves a worthy lamp that carries its own story. The perfect lamp for that is a modern Islamic home decor accent that brings color and culture to your homes. These uniquely made and colored lamps are the perfect addition to any home that wants that Arabic twist. That small item can bring together the whole room with its warm and textured projection.
This style of Moroccan and Turkish Islamic home decor are commonly widespread in southwestern Asian as well as north African countries where Arabs were widespread. The best lamps are bought in flea markets where you can often find authentic and handmade artisanal sconces. Below you will find some of the most popular and distinguishable Arabian style lamps for your home decor.
1- Rounded Mosaic Lamp
These traditional rounded lamps are definitely an eye catcher. Their unique shape and metalware act as a nice accent to any outdoor space. Having many lamps placed next to each other in variant heights will add a unique twist as well as a nice hierarchical feel. The mosaic glass on these lamps are not to be dismissed. Each piece is placed with attention and care to maintain a beautiful and coherent design.
The handmade and individually placed pieces in unique patterns can really add a pop of color when lit as well as a warm and cozy feel. The stained glass pieces are details that should not be dismissed. The shape and colors that these lamps hold have a story of their own, so make sure you ask your vendor about it!
2- Patterned Lanterns
Many of these types of lamps are inspired by Islamic architecture. You can clearly see that in the lamp above where it is shaped like a structure with a rounded roof giving an Islamic feel to it. Lamps like these are perfect for warming up small spaces and adding interesting lighting with the different patterns and shapes they come in. The shadows and interesting patterns that project when lit gives out a nice and comforting feel. It can also act as an intricate art piece that can give some life and 3 dimensionality to an empty corner.
3- Wall Sconces
Wall lamps are the best accompaniment for any front door. Not only are they practical for the nighttime, they are also a nice accent that will add a bit of character and asymmetry to the facade. These particular lamps are a great introduction for the Islamic and Arabian feel of the house. It acts as a small teaser for the guests to know what interior to expect when they enter. These lamps are intricately created maintaining the Moroccan style and patterns. Traditionally, these lamps were lit with candles and tea lights but with modern technology and all in all practicality they are now lit with lightbulbs, mainly yellow lights to keep a warm and cadle esque feel.
4- Stained Glass Lights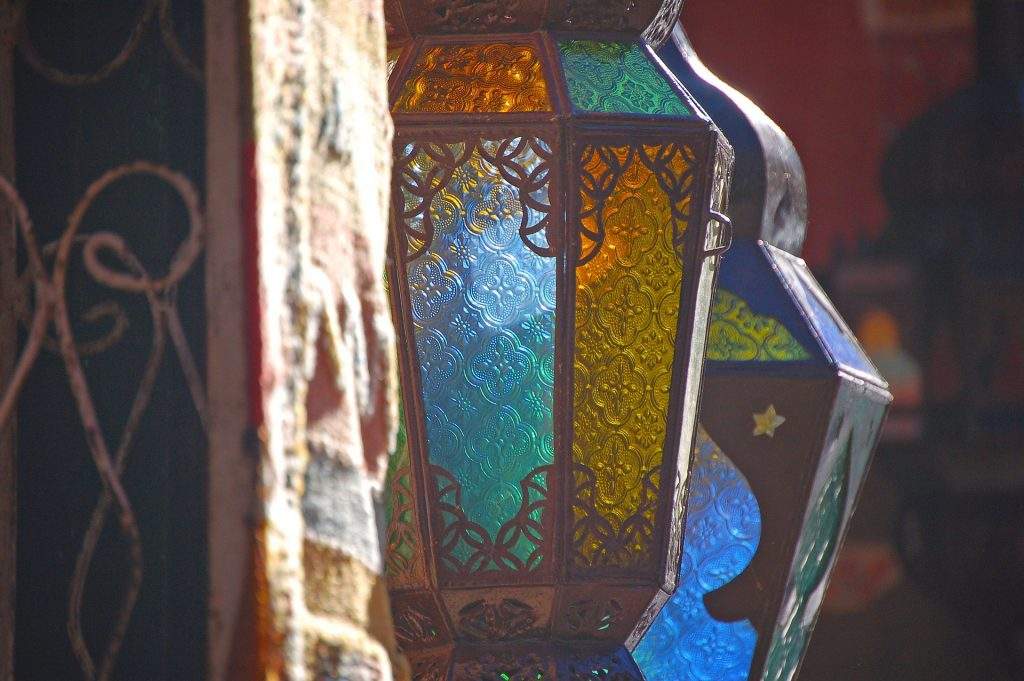 These beautiful stained glass lamps are definitely a crowd favorite. The vibrant colors and intricate design on both the glass and the metal work are details that should not be dismissed. The recurring theme of inspiration from Islamic architecture is still maintained through the patterns, shapes, and overall feel. This piece is essential to every Arabian style home decor no matter the theme or color scheme. The addition of charisma and distinctiveness through these lamps can really portray the homeowner's style and personality.
5- Hanging Light Fixtures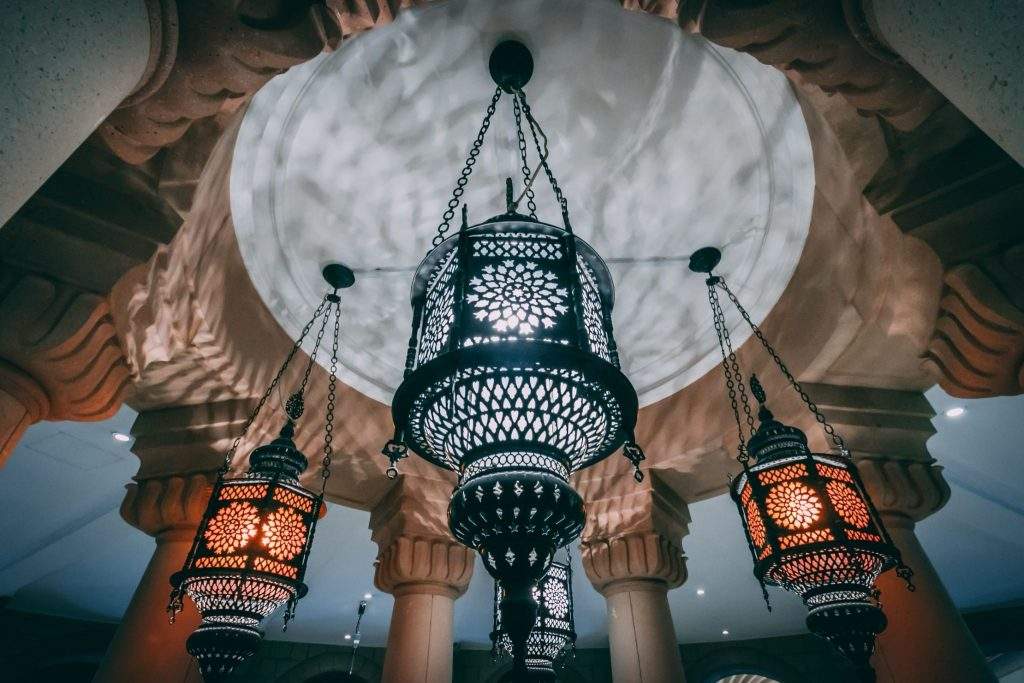 Larger lamps can really bring together a room with high ceilings and extravagant design. These lamps can portray a luxurious and grand feel to a large home salon while maintaining the Arabian theme. The details similar to the ones before with inspiration from Islamic architecture, stained glass, and intricate metal work on a larger scale are definitely worthy of a high and marbled ceiling.
The chains that are used to hang these pieces maintain the rustic yet artistic feel of the home. These lamps are hung symmetrical to each other to keep the theme of coherence throughout and have alternating lights of both white and yellow to balance each other. The white light will bring brightness and a spacious clean feel, while the yellow lights will bring in the warmth and complete the room's overall character.
~ Romy Khneisser