Know the Pros and Cons of Android.
Android is the most widely used smartphone operating system worldwide. Since its inception in 2008, it has evolved significantly. Android now powers some of the finest phones ever made.
But what makes it so famous, and what issues remain to be addressed? We look at the benefits and drawbacks of using Android.
The Top 5 Advantages of Having an Android Smartphone
The advantages of using an Android smartphone are largely dependent on the needs of the user, but the following are some of the most common.
Widgets
Widgets are for applications that you need right away, such as a calendar with updates, weather predictions, daily news headlines, and so on. Some of the applications are convenient for obtaining information, while others have handy controls such as those for your media applications.
Although iOS phones have widgets, Android phones are much more sophisticated and capable. They make it easy to get to important information by reducing the amount of scrolling and clicking required.
Variety of application options within and outside the app store
If you can't find the app you're searching for in the Google Play Store, depending on your computer, you can bypass it with a few taps in your phone settings.
You can run non-Play Store applications on your Android smartphone if you have one. You are not limited to downloading only the best Android apps from the Play Store, but you can also instal apps from third parties.
Several hardware innovations.
Consumers can select from a range of hardware configurations on Android devices. You can select from a range of processors, battery types, RAM and storage capacities, as well as support for portable storage such as flashcards.
There are a variety of sizes, forms, and function sets to choose from. Android is also responsible for the bulk of hardware innovations, such as in-screen fingerprint scanners, bendy tablets, and pop-up selfie cameras.
Extended Memory facility
With Android phones' support for expandable memory, filling up the storage isn't a concern.
Android users can easily adopt extra memory capacity to meet their needs by using disposable storage such as memory cards. You can save your favourite games, as well as images and videos, to a memory card.
Multiple Phone Options
Android is a mobile operating system that is supported by a wide variety of handset manufacturers around the world. As a result, there is a large selection of devices to pick from.
To represent the brand and target audiences, each brand offers unique hardware and software. The height, storage, camera pixels, battery life, design, and other features of Android smartphones differ. You'll find an Android smartphone to meet your needs, regardless of your budget or screen size requirements.
Versatile applications like Regional Keyboards
Android users need not worry about typing in local languages henceforth. The sixth and the last advantage of having an android device that deserves a mention in this list is the availability of regional language keyboards. To be able to communicate in one's local language is one of the growing demands of users.
However, console providers have not provided as many features as they do in the regular keyboards.
In this scenario, the Bharat keyboard has launched its range of regional keyboards to bridge the gap between the demand for superfast typing and console with the traditional touch of regional language with its diversities and advanced modern technological advancement.
Bharat keyboard has launched its Malayalam keyboard with advanced features sans the inbuilt purchases. 
This Manglish keyboard is a comprehensive solution to all your Malayalam typing woes. Here are some reasons why this Manglish keyboard will make your android user interface more worthwhile.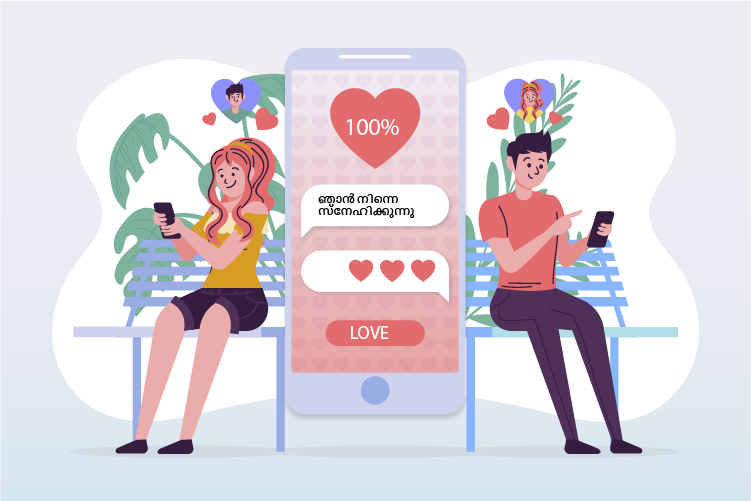 Enjoyable User Experience: The Manglish Keyboard Application has a user-friendly interface. This makes it easy to use, for those who aren't used to using an online Malayalam keyboard. The app's 'Download Numbers' are evidence of its user-friendliness. It shows that users favor this keyboard over other apps due to its user-friendly interface and ease of use.
Specificity: The Manglish Keyboard App allows users to customize their experience. It uses selfies to produce amazing stickers out of it. It recommends stickers based on the typed text by using Artificial Intelligence. The appearance of the keyboard can be changed by using themes and has thirty different fonts and types to choose from.
Unique collections: This keyboard program often comes with a collection of features that are exclusive. BigMoji is a recent application that recommends emojis based on the text that users write. By long-pressing emojis on BigMoji, users will submit them as stickers. The sound effect on the stickers can also be personalized. This program does not require internet access to include Malayalam typing. When it comes to consumer protection and privacy, it is very dependable and trustworthy. It also offers users tips about how to stop mistyping.
The cons of Android
Android users, however, need to have a google account to get the best out of their devices. It necessitates the use of your account, especially when installing apps, uploading content, or engaging in other activities—it must be backed up by your Google account.
Officially, Android receives regular security fixes to repair any device bugs, so if your handset ceases getting updates, it may easily become a security danger.
Popup ads on Android, especially on low-cost smartphones, are another source of irritation for users. There are commercials all over the Play Store once you open it.
Conclusion
For good cause, Android is the most common smartphone operating system. It's easy to use, has millions of apps, and is brimming with creativity. Because of the platform's durability, and though you run into issues in the interim, they'll be simple to resolve.