Are you guys searching solution for how to manually convert MBOX to PST? In this blog we are going to explain different manual techniques and non – manual techniques to overcome this process. Read complete blog carefully and stay tuned with us.
We all are living in a new era of technology. Everyone is using different types of e-mail applications for their business purpose and personal use as well. There are so many email applications now available due to which it has become difficult for users to decide which one to choose.
But there are many MBOX users who are looking for how to manually convert MBOX to PST format. MBOX file is one of most flexible file formats and can be accessed in various email applications such as Thunderbird, Pocomail, Apple Mail, Spicebird, etc. On the other hand, PST is also a popular file format. It stores all mailbox data like emails, contacts, calendars, tasks, journals and much more. Due to many reasons users are looking for how to manually convert MBOX to PST format.
What are the reasons due to which users want to convert MBOX to PST?
There are many reasons due to which users are looking for this conversion process. Some of the reasons are mentioned below:
PST file has a better interactive user interface for smooth operations.
PST users don't need internet connectivity to access those emails which are already opened. They can run the already opened emails without an internet connection.
Users of PST files will get the best password protection like encoding email for security purposes. Therefore, using PST is more secure than the MBOX file.
PST file format stores all emails, journals, contacts, calendar, tasks, notes, etc., for each mailbox. Whereas, MBOX file format only stores the email messages.
Users will find the structure of the PST file always in a systematic manner. Like inbox, sent items, contacts, etc. While on the other side, MBOX file only stores the emails and attachments in a sequence.
Different approaches of Converting MBOX to PST
There are two ways of exporting MBOX file format to PST file format:
Manual Approach
Professional Approach
1. Manual Approach for exporting MBOX to PST file format
Converting MBOX to PST format includes three steps:
First, save MBOX as EML files
Then move EML file in to Outlook
Finally, export EML file in to PST file
Step 1: How to Convert MBOX files into EML files
First, users have to open the E-mail application that stores file in MBOX format like Thunderbird.
Now go to the folder from which you want to export files
After that, Right-click on the folder and click on the 'New Folder' option.
Give a name to this folder and click on the 'Create Folder' button in next window
Select the messages from the folder you want to move messages and then right-click on it
Then click on Select Move to>>>Account name>>>Folder and then select the new created folder.
Now, users can see all the MBOX emails in the new folder. Select all messages and right–click on it.
Thereafter, tap on Save As option and in type select the EML format
Finally, the MBOX files will be converted to EML format
Step 2: Now Move EML to Outlook
Now, users have to open the Outlook application in their working system.
Browse to the folder where EML files are stored to proceed further.
After that, drag and drop these file folders to any Outlook folder.
Step 3: Finally Export EML to PST
The third and final step is to convert into PST format.
Now, open the application and go to File then Open & Export button and click on Import/ Export link.
Now, user can select the option 'Export to a file' and click next button.
Then, select the file type as Outlook data file (.pst) and select the folder where EML files are stored.
After that, choose the location to save the new PST file. Then click 'Do not export duplicate items' and click on Finish tab.
Those files will be converted to PST format and will save at the mentioned location
Finally, user can check the resultant PST file after the complete conversion process of how to manually convert mbox to pst.
Demerits of Using Manual approaches
There are many drawbacks of using this manual approach. Let's have a look on some of the reasons:
The manual approach is a Lengthy and time-consuming method.
It requires technical knowledge to execute the process. Non – technical users will not be able to perform the task easily.
It can create disturbance in the original structure of the MBOX mailbox
Broken images after the complete conversion of the MBOX folder
User cannot perform Bulk conversion of MBOX to PST format.
2. Professional Approach to Convert MBOX to PST format
Users can take the help of MBOX to PST Converter for accomplishing this task. Users can easily export single or multiple MBOX files to PST format. This tool provides a direct option to convert MBOX to PST. One of the main things about this software is, it asks to keep or ignore the internal system folder hierarchy during the conversion process. It also has an option to create separate or single resultant PST files for each MBOX file. Users can also perform bulk conversion of several MBOX files to PST. This tool is an excellent way of accomplishing this task.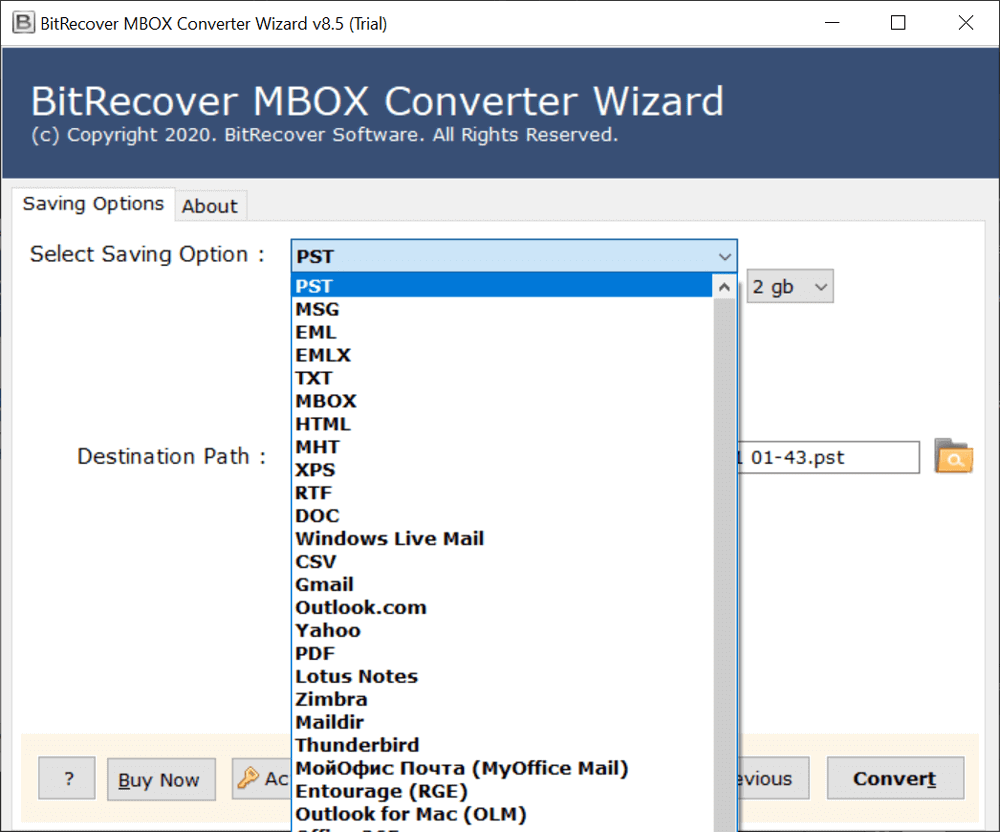 Final Words
In this blog, we have explained about how to manually convert mbox to pst. Converting MBOX files to PST file format manually has always been an advantageous activity for every single user. By understanding the needs of the users, we have mentioned manual solutions in this blog. But as mentioned above these manual solutions are not so effective for completing this procedure easily. However, manual approaches sometimes become very difficult for the user to perform. So, to overcome this issue a third-party software is suggested. Therefore, follow above – mentioned steps to complete the task without facing any hassle.
Read Also ~ Complete Solution to Repair Exchange DB After Dirty Shutdown